ITS Safe Detects, Protects and Destroys Intruders.
The ITS SafeTM Security Appliance is an additional layer of security for your network to defend against today's active threats. The ITS Safe appliance is designed to sit behind the existing firewall, and before the network for your business.
This enables us to review and manage all Inbound and Outbound traffic, allowing us to disrupt the unwanted activities BEFORE they can succeed at compromising the environment.
As you can see from above, the ITS SafeTM Security Appliance Sits behind the organization's firewall, allowing it to see the traffic in the network that is coming in and out of the network from the computers, IoT devices and the employees inside the network. If the organization permits the employees to use their personal mobile devices, we can scan the traffic from the WiFi connected devices which passes through the network.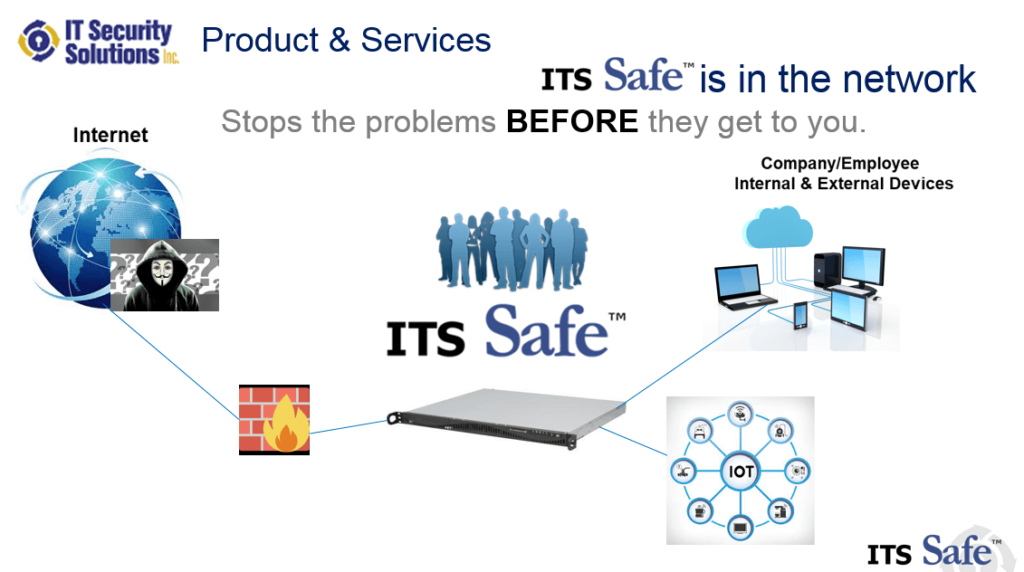 WiFi devices are especially interested to attackers because they don't need your email address (though we have identified MANY Email addresses for our clients), to get to you personally. We can have a deeper conversation about your company's security, by scheduling a brief call with us.
If you are looking to block the Trojans & amp; Ransomware coming into your network, you definitely need to stop the intrusions in the network, BEFORE they can gain access to the computers and other equipment in your network. Here's a brief video about what ITS Safe found in a local Pilot on Day one, President's Day, 2019.
Did you know 43% of companies go out of business just six months after a cyber-attack?
In the video above, do you think that the firewall or virus scanners are blocking the attackers?
If your last security assessment is over a year, we can start with a small assessment to get you started on better security today.